This month's exclusive interview is with Healthy Green Athlete sponsoree, professional beach volleyball player Bill Kolinske.
I met Billy for the first time in Ixtapa, Mexico this past January on a trip hosted by SOB Volleyball Vacations.  I was playing in the co-ed tournament and I looked down the beach to see this tall man wearing an HGA t-shirt.  That moment is still one of my favorite moments of 2017.    From the very first conversation I had with him I felt like I had known him for years.  His mid-western upbringing probably has a lot to do with it but he just might be the friendliest professional athlete I'd ever met.  He's not only an amazing athlete, he's also a great coach and his passion for the sport is contagious.  Healthy Green Athlete couldn't be more proud to sponsor Billy for the 2017 beach season.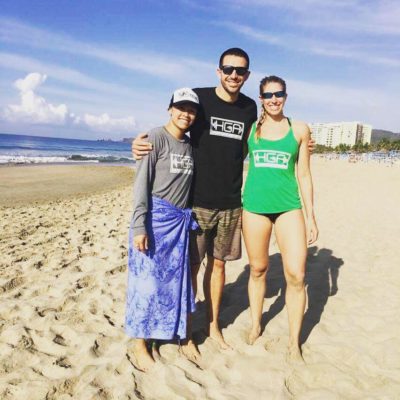 I'm crossing my fingers that he returns to Ixtapa in January 2018 so I can learn how to further improve my own beach volleyball game from him.  In the mean time, here is an exclusive interview where we learn how Billy got started, and about how his nutrition, training, mindset and recovery practices contribute to his success as a professional athlete.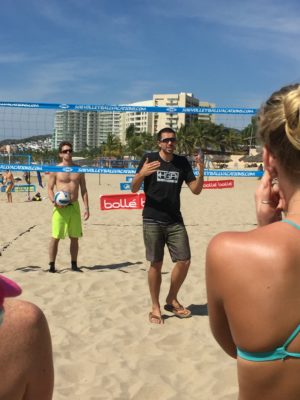 Tell us all a little about yourself.
My name is Bill Kolinske and I grew up in Big Bend, WI.  I have 5 brothers and sisters and sports have always been a big part of my life.  I grew up, like the rest of my family, playing basketball.  I played basketball at University of Wisconsin-Whitewater.  I played coed 6's volleyball at a bowling alley when I was in high school.  One of the reasons that I played was because there was a girl on the team that I liked.  I am very competitive person and began to really enjoy playing.
How did you get in to beach volleyball and what keeps you playing?
When I was 21 years old, I drove to the AVP in Chicago and knew that I wanted to pursue beach volleyball.  I played my first beach volleyball tournament when I was 22 and I showed up to Bradford Beach in Wisconsin with a cooler full of food.  We started the tournament at 8 am and I was knocked out of the tournament by 945 am.
I was so upset and told myself that this will never happen again.  I began to fully commit to this game and had so much fun traveling the midwest playing tournaments.  When I turned 25, I left my Physical Education job in Wisconsin and packed my life into my car and drove to Hermosa Beach, CA to go after my dream.
This year, I have focused on eating a lot more vegetables and each day I have 2 green smoothies.  I have noticed an increase in energy and I feel so much better on a day to day basis.
Who is your biggest inspiration in life and why?
My biggest inspiration in my life are my parents.  They provided me with the best example of how to live a happy life.  They taught me the importance of hard work and how to treat other people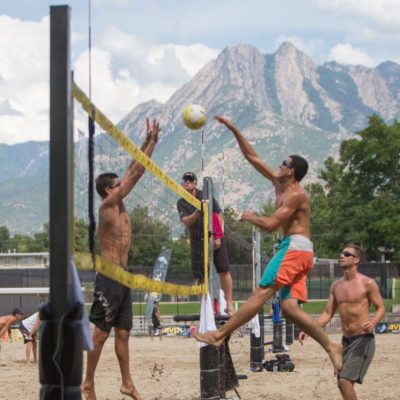 What is a typical training day like for you?
A typical day for me is heading to the beach at about 730 am for practice for about 2 hours and then come home for a quick lunch.
Then, I head to the gym to do my workout and end with a little conditioning. During the season, I will usually travel on Wednesday or Thursday to compete on the weekends.
What separates you from other professional volleyball players?
I believe that my consistent work ethic sets me apart from other players.  I truly love what I do and don't consider it work.  I have so much fun playing beach volleyball and getting to travel the world.  I also consider my mental game to be one of my strengths in beach volleyball.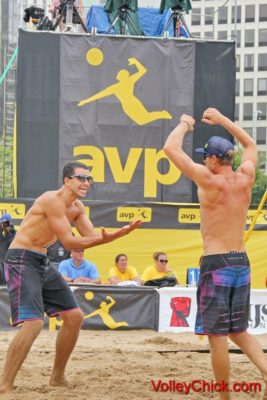 What goes through your mind when you're under pressure and how do you deal with/use it to your advantage, etc?
I have had the honor to play for 2 years with Casey Jennings, one of the legends of the game, who has taught me so much about the mental side of beach volleyball.  It amazes me how much of the game is what you tell yourself during a match especially when you are fatigued.  I have certain cues that I tell myself to block out any outside noise and focus on being in the present moment to perform at my best.
Do you have any books to recommend to our athletes?
One of my favorite books is "100 ways to motivate others."
How do you recover after you play in a tournament, practice or training session?
I'm 30 years old and have played beach volleyball for 8 years and the more I play, the more important recovery is to my game.  After every practice, I stretched for about 15 minutes and usually jump in the ocean.  2-3 times a week after a workout, I will ice bath and foam roll.  I always want to be as close to 100 percent for each practice.   It is also very important to get consistent sleep to perform at your best.  Also, on my off days I have learned that it is important to go for a bike ride and stretch.  It helps to keep the blood flowing and recover better than just sitting around.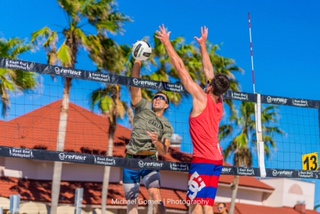 Do you follow a particular diet on a day to day basis?
I feel like my diet as become a very important part of my game.  When I first started playing, I didn't pay too much attention to what I ate.  Now, I always have breakfast, lunch, and dinner.  I focus on a lot of greens:  kale, spinach, broccoli, etc.  This year, I have focused on eating a lot more vegetables and each day I have 2 green smoothies.  I have noticed an increase in energy and I feel so much better on a day to day basis.  It really has helped me recover as well.  I am not as sore as I usually would be after a tournament. This focus is why I consider myself a healthy green athlete.
What is your end goal when it comes to volleyball and what are some of your other life goals?
My end goal in volleyball is to go to the Olympics.  I mainly want to give a 100 percent to the sport so when I look back on my career, I can see how well I did and have zero regrets.  Some other life goals would be to have a family with at least 3 kids.  I come from a big family and I am very close with all of them.  When I am not playing volleyball, I love to go back to Wisconsin and spend time with my nieces and nephews.
Who is your favorite athlete and why?
My favorite athlete of all time is Larry Bird.  I like how he was not fast or very athletic but worked hard and outsmarted his competition.  I have never been fast and try to work hard to be the best I can.
Connect with Bill Kolinske on Instagram.