Natalie "Killface" Morgan's last victory (a masterful spinning back elbow knock out!) has been shared thousands of times since April. What's even more noteworthy about that KO is that it was vs. China's Sung Jing in the first round of the all female international tournament, World Muay Thai Angels. It must also be noted that she is the first American to be selected to participate in the prestigious tournament.
I have been lucky enough to train alongside Natalie the last few years here in Los Angeles, albeit at a much different level (you won't be seeing me inside the ring anytime soon) and can vouch for her unparalleled commitment to her training. She inspires those around her with her hard work and dedication not only to the art of eight limbs, but with practicing what she preaches in every way.
Enjoy this exclusive interview with Natalie Morgan and plan on "Killface" becoming a household name in the near future.
Not familiar with Muay Thai? Muay Thai is a martial art developed in Thailand in which blows may be struck with the fists, elbows, knees, and shins. It's brutal. It's beautiful. Muay Thai is growing in popularity around the world like wildfire.
HGA: Start by telling our readers a little bit about yourself
Killface: My name is Natalie "Kill Face" Morgan. I train out of the Yard under Mark Komuro. I've been training now for about 7 years and with my coach for about 6 and ½ years of that time. This sport is my life but I also enjoy baking, cooking, travelling, hiking, and camping. I'm currently studying Geology to obtain a B.S. from Cal State LA. I take only a few classes at a time with my fifth schedule being more priority. This is my retirement from fighting plan. Always have to think ahead!
HGA: How did you get in to Muay Thai and what keeps you coming back?
Killface: I got into Muay Thai simply because I was getting out of shape. It was the only thing that I had ever done physically that challenged me so extremely! I was sweating everywhere and I loved it! The competitiveness and the fascination of learning and improving had me hooked!
HGA: What is a typical training day like for you?
Killface: It usually starts somewhere between 5 and 6am. I wake up, have my breakfast. I hit up my local coffee shop and head into the gym. I train for about two hours. It always involves difficult cardio of some kind, sparring, and mitt/pad work. And lots and lots of abs.
After this I head into my day job Little Tokyo in DTLA. I bartend the lunch crowd and sometimes I go in to help manage. It's a short shift of about 6 hours but keep in mind you're always on your feet and walking from bar to bar. Yes… we have two bars and 38 taps. There's a lot of back and forth running involved but I enjoy my job very much there. After this it depends on which day it is. Two days a week I have strength and conditioning. Other days I may go back into the gym for sparring, I may head to yoga for a little active recovery, or I may go for a run. I typically have a very early dinner and go to bed around 9pm. I know I'm like an old lady. As fighters, many of us make many sacrifices to do what we love.
HGA: Your nickname is "KILLFACE." How the hell did that come about?
Killface: In my third amateur fight, we were in the ring about to fight and my opponent fainted. It was absolutely nuts. I had never seen anything like that before. Mark (coach) said he had never either. There were many running jokes about it but one day I stumbled upon this YouTube comedy series called Enter the Dojo. There was an episode called the "Kill Face" where he teaches his students to KO people without even touching them. I thought it was a funny thing to post given what had happened in my fight. Apparently, everyone else thought so too because that's the name that stuck soon thereafter. 
To me being a fighter doesn't have to stop when you leave the ring. I fight for things I believe in every day. I think being a fighter is a mentality. Fighting is almost completely mental anyhow. If you have the proper mindset, you can literally do anything!
HGA: Who is your biggest inspiration in life and why?
Killface: This question is always a tough one for me as I have many inspirations in my life. If we're going for fight specific, I'm truly inspired by those that surround me daily. My coach inspires me every day to become a better fighter and person. And if it's a fighter then definitely my teammate Joe Schilling. I look to the best female fighters in the world that I love to watch and try to become the best as they did/do. Caley Reece, Miriam Nakamoro, Tiffany VanSoest, and I'm sure there are others I'm forgetting at the moment. There are so many!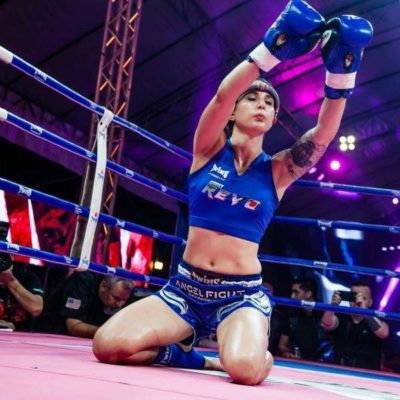 HGA: What does it mean (for you) to be a fighter?
Killface: To me being a fighter doesn't have to stop when you leave the ring. I fight for things I believe in every day. I think being a fighter is a mentality. Fighting is almost completely mental anyhow. If you have the proper mindset, you can literally do anything!
HGA: What separates you from other fighters?
Killface:: What separates me from other fighters is my intense formidability and aggressive style. I am stubborn and refuse to give up. This makes for exciting fights every time I step into the ring! I bring the grit to my training and to my fights.
HGA: How do you prepare mentally for high-pressure situations?
Killface: I won't give away all my secrets… But when I'm prepping for a fight I have a personal power talk and positive beliefs that I say. I use visualization techniques, and I repeat these every day.
HGA: What goes through your mind when you're under pressure and how do you deal with/use it to your advantage?
Killface: When I find myself in high-pressure situations I tend to have better performance, actually. I'm either thinking about how much I've given up and all the hard work I've put in to just give up or give anything less than everything. After all of those hours of grueling, intense training why would I give it all up for this short moment in time? 
HGA: How do you recover after training?
Killface: I love love love massages! I typically get a massage almost every week. I also take Epsom salt baths and receive acupuncture when needed. 
I believe a winning/champion mindset is just self-belief. Confidence is a very dangerous thing and sadly too many people in the world lack it.
HGA: How did you develop and maintain a winning/champion mindset?
Killface: Many years of practice. It also helps that I'm stubborn as hell. I believe a winning/champion mindset is just self-belief. Confidence is a very dangerous thing and sadly too many people in the world lack it.
HGA: Do you follow a particular diet on a day-to-day basis?
Killface: I am a gluten free, lactose free, pescatarian. Basically, I eat eggs, tons of vegetables, and some fish.
HGA: How does that diet change when in training camp?
Killface: My diet never changes. I have some allergies that prevent me from doing so even if I wanted to. And this way I'm always ready to fight. Crash dieting is terrible for the body. When I get to fight week, I may just have to cut calories to help make weight.
HGA: How do you make sure that you are on top of your game/performance?
Killface: Staying on my everyday training and way of life keep me sharp. I make sure I eat the proper foods, get enough sleep (7-9 hours), and listen to whatever my coach tells me to do.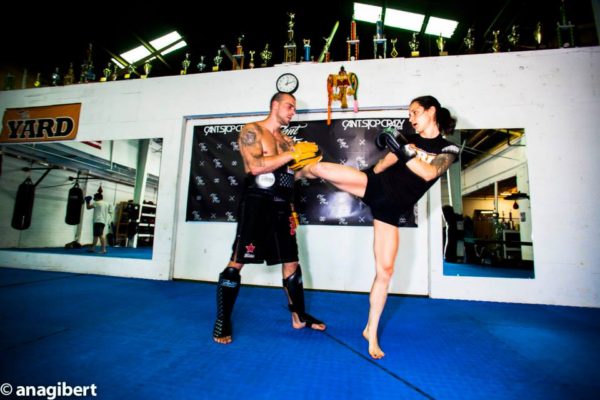 HGA: What are your suggestions for someone interested in trying out martial arts?
Killface: Martial arts are a great way to get in shape that's very fun! There is always something to learn and women can even use some aspects of it for self-defense. If you're interested in trying any martial arts, DON"T WAIT! Get out there and try something new. You never know what may happen. And if you don't like it then at least you will have tried it and now know.
HGA: Do you have any suggestions for the women out there, in particular?
Killface: As I said, it can be a great way to learn self-defense. I find a lot of women are intimidated because most martial arts gyms are predominantly male. However, most gyms are very welcoming to women and NO you do not have to practice full contact if you do not want to. Just be vocal about it to the trainers. Most gyms nowadays don't expect everyone to fight, just those that are interested.
HGA: What is your definition of an athlete?
Killface: My definition of an athlete is someone who practices their discipline like it's their job. They spend countless hours perfecting techniques not only physical but mental. They look physically fit but if they practice as they should then they will be. Many athletes give up their body (physical health) for this particular passion as well as personal life sacrifices.
HGA: We believe that nature should play a big part of not only daily life, but fitness. How do you take advantage of nature/the outdoors? 
Killface: I grew up in the green country hills of West Virginia so I have a profound love for the outdoors. Living in LA it's sometimes difficult to get outside of the busy city but I try to take a hike bi weekly and usually schedule at least one trip to camp every year. I find it helps my training as well – be it sleeping in almost freezing weather, hiking the Grand Canyon, or just getting a breathe of fresh air.
HGA: What is your end goal when it comes to fighting?
Killface: Become a world pioneer in Muay Thai (especially for women) with multiple WBC titles.
HGA: What are some of your other life goals?
Killface: Complete my B.S. in Geology and work with focus on Volcanoes! I also, want to open up my own coffee shop with homemade gluten free treats and chocolates.
HGA: Last but certainly not least, what makes YOU a Healthy Green Athlete?
Killface: I am a Healthy Green Athlete in every sense. I practice what I preach and achieve to inspire through my actions. I want to look back on my life and say "Yea! I was a good role model to those around me."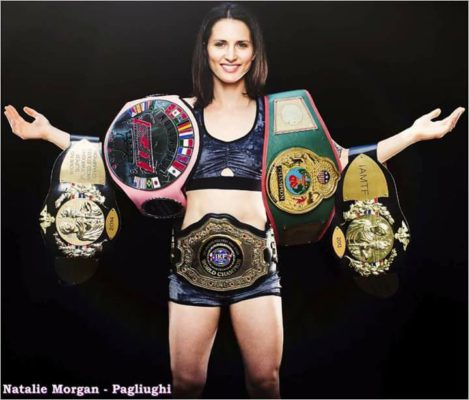 Next up, Natalie "Killface" Morgan will be back representing the USA in the World Muay Thai Angels tournament against an opponent from Portugal. Be sure to follow her exciting journey!
YouTube: Lady Kill Face
IG: @ladykillface
FB: /ladykillface