The foods that athletes consume before, during and after a full-day volleyball tournament can have a huge impact on their performance during competition and recovery after they are done playing.  Here are a few tips for what foods to eat and when to eat them for optimum performance and recovery.
Before
The foods that you consume 2-3 days before a tournament can have an impact on your performance on game day.  For optimum performance, drink lots of water to stay hydrated and eat fresh vegetables with a clean protein at every single meal.  Incorporate as many real foods as possible and avoid fast food, junk food, large amounts of sugar and processed foods.  It's also a good idea to eat a full meal for breakfast with protein, vegetables and a complex carbohydrate at least an hour before your first match.
During
Eat light between games if you're hungry but try to take advantage of your long breaks to eat a full meal even if you're not feeling hungry in order prevent an energy crash later while you're playing.  Avoid fried foods and beverages or foods that are high in sugar (more than 10g per serving) because those can affect energy levels too. Opt for clean meals and snacks consisting of real foods such as beans, grains, lean meats, vegetables and fruits.  Here are some recommendations for light foods to pack for your beach day:
Proteins: hard boiled eggs, greek yogurt, grilled chicken
Carbohydrates: fruit, granola, roasted sweet potatoes
Healthy fats: avocado, nut butter, olives, coconut
Vegetables (raw or cooked) with hummus or homemade salad dressing made with olive or avocado oil
Here are some of my favorite real-food snacks for between games:
FBomb Fuel Nut Butters (the Salted Chocolate Macadamia Nut Butter is my favorite!)
Epic All Natural Meat Bars (try the Bison flavor, it's delicious)
Raw veggies such as bell peppers, carrot sticks, and cucumbers
Low sugar fruits such as strawberries and blackberries
After
For optimum recovery after a tournament, consume a meal consisting of: a high-quality source of protein (1 serving), fresh vegetables (2 servings), a healthy fat (1 serving), and complex carbohydrates (1 serving).  We also offer a RECOVER Kit which contain foods and other products to enhance recovery after exercise or injury.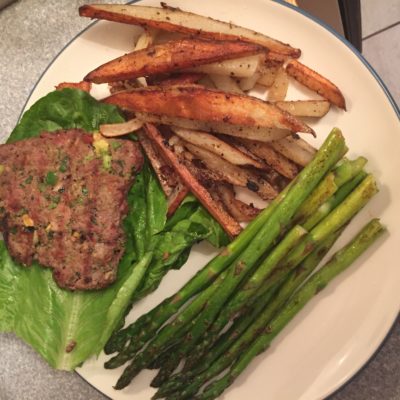 For more information on how athletes can improve their athletic performance and recovery through nutrition find HGA on Facebook, Instagram, Twitter and Pinterest.