When it's cold outside here in Colorado, my body craves nourishing zucchini soup.   I am sensitive to dairy and it's often difficult to find store-bought soups (even healthy ones) that are dairy-free.  So, I decided to make my own!  I used a base of chicken bone broth – which I did actually buy from Imperfect Foods – to make it extra nourishing.  Actually now that I'm thinking about it, most of these ingredients were included in my last Imperfect Foods delivery.  With the exception of the coconut cream which I bought from Amazon. 
Anyway, I don't think I'll ever buy store-bought soup again since this recipe is SO easy.  It's also versatile because I can replace the zucchini with another squash that's in season or even broccoli.  I like my zucchini soup to have a kick, so I added some jalapeños but you can leave those out if you aren't a fan of spice.  I also used coconut cream instead of coconut milk to make it extra creamy. 
I would recommend pairing this delicious soup with some kind of warm sandwich – like a ham and avocado on toasted bread! 
I ended up freezing half of it so that I have soup on hand for the next cold day!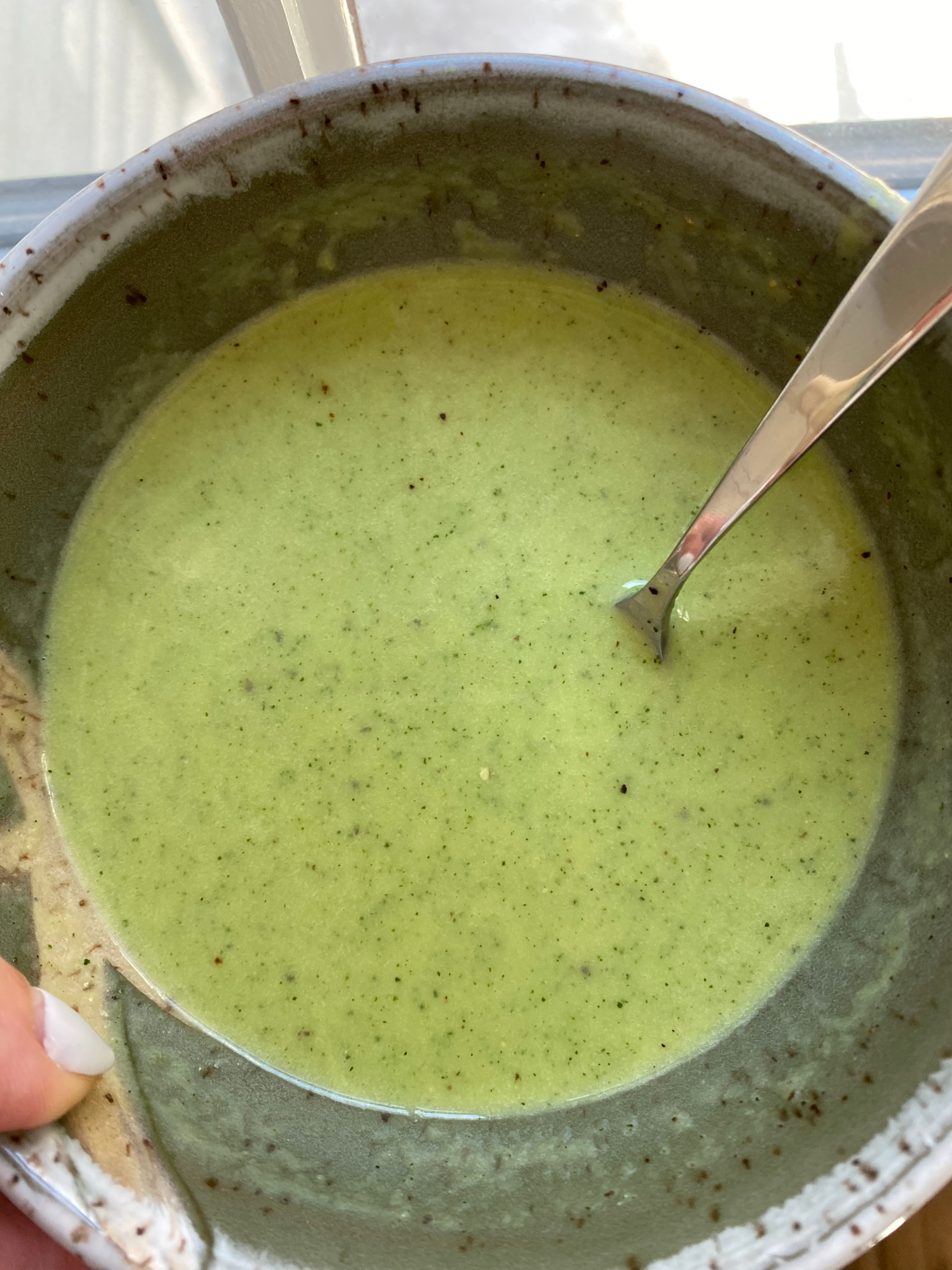 Non-dairy Cream of Zucchini Soup
Additional Time:
5 minutes
Ingredients
5 medium zucchini, cut into chunks
2 tsp garlic, minced
1 medium yellow onion, sliced
2 jalapenos, diced (optional)
salt and pepper to taste
Instructions
1. Add 2 TBSP avocado oil to a large pot. Turn heat to medium and add garlic, onions and jalapeno. Sautee until onions are tender. Stir often to keep garlic from burning. Season with salt and pepper.
2. Reduce heat to low, add zucchini and chicken bone broth and simmer for about 20 minutes or until zucchini is tender. Season with salt and pepper.
3. Blend soup by either removing from heat and placing in a blender to puree or use an immersion blender while still in the pot. Add coconut cream then blend again and return to the pot if needed. Bring to a simmer and season with salt and pepper to taste.
4. Serve hot or store in the fridge for 1 week.
Nutrition Information:
Yield:

6
Serving Size:

1 cup
Amount Per Serving:
Calories:

196
Total Fat:

14g
Carbohydrates:

8g
Protein:

9g