Peaches and Cream Overnight Oats is one of my favorite meals. I remember when I was a kid, I was OBSESSED with the peaches and cream flavored instant oatmeal packets.  I'm actually craving it right now as I type this.   Quaker has cleaned up their act a bit since I first got hooked on this food, but the product is still pretty high in added sugar (it's the second ingredient behind oats).  This ultra-processed food also contains dairy in the form of milk and cream, neither of which are great for those of us who are lactose-sensitive or lactose-intolerant.
Also Read: [RECIPE] Non-Dairy Cream of Zucchini Soup
So, I decided to try and create my own healthier version of "Peaches and Cream Overnight Oats" which was gluten-free and dairy-free and contains only natural sugar from pure maple syrup.  Actually, I have 2 different versions of it that I've posted below.  There's a high-protein version that features greek yogurt.  This makes it extra creamy and delicious but that ingredient can be swapped with a non-dairy protein powder for those that can't tolerate dairy.     
The gluten-free, dairy-free recipe below is still creamy but instead of greek yogurt it features my favorite yogurt of all time which is made with cashew milk.  If you're looking for a good source of protein, however, I wouldn't rely on cashew milk yogurt for that.    
This delicious gluten-free overnight oats recipe is excellent for athletes that don't have a lot of time to make breakfast before practice or competition.  It is also a very versatile recipe so ingredients can be swapped to meet nutrition needs.  Almond milk can be swapped with whole milk or oat milk (Note: Adding oat milk will add 13.5 grams of carbs).  Peaches can be swapped with any other fruit like apples, bananas or berries.  You can also add any desired toppings but keep in mind that adding toppings will alter macronutrient content. 
DAIRY-FREE VERSION: With 45 grams of carbohydrates, this recipe is also a great pre-game meal that can be consumed at home or packed in a cooler and enjoyed on-site.
HIGH-PROTEIN VERSION: With 35 grams of carbs and 26 grams of protein, this just might be the perfect snack for any athlete to enjoy at any time of day. 
Also Read: 10 Pre-Workout Snacks with Whole Food Ingredients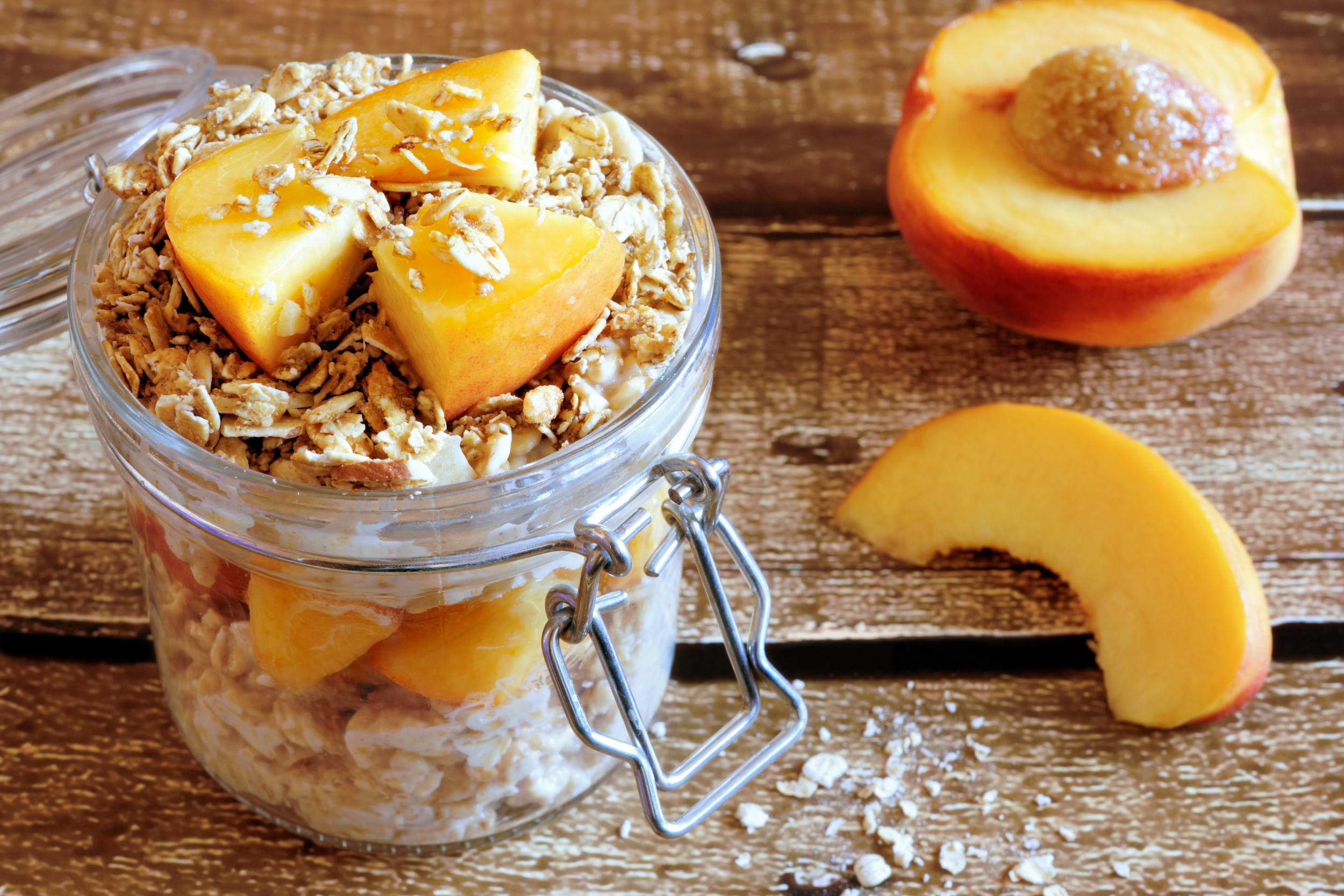 Peaches and Cream Overnight Oats (dairy-free gluten-free version)
As written, this recipe is an excellent high-carb snack to fuel exercise without the inflammation from dairy or gluten. For a daily breakfast with higher protein content, see the high protein version (contains dairy) here.
Ingredients
1/2 cup unsweetened vanilla almond milk
1/4 cup fresh or frozen peaches, diced
2 tsp pure maple syrup
1/2 tsp vanilla extract
1/2 cup Forager vanilla bean cashew milk yogurt
1/2 tsp cinnamon
Instructions
Combine milk, vanilla, maple syrup, cinnamon and chia seeds to a jar or small bowl with lid.
Add oats and peaches. Stir well.
Add yogurt to top and swirl into the oat mixture.
Place in the fridge overnight and enjoy!
Notes
Make multiple jars at one time and enjoy for breakfast or a snack throughout the week.
Nutrition Information:
Yield:

1
Serving Size:

1 jar
Amount Per Serving:
Calories:

300
Total Fat:

11.5g
Carbohydrates:

45g
Protein:

8g