This post was an email I sent to my newsletter subscribers on February 7, 2023. 
Every January, I take the time to choose a word to set an intention for what to focus on.
2022 was A YEAR. We got a german shepherd puppy named Axel. I launched my Elite Athlete Training Camp. Then we got engaged. And I finally got a promotion at work that I've been working toward for years. Life was good. Full of BIG time-consuming and energy-intensive responsibilities, but good.
Also Read: 5 Hacks to Manage Your Energy Not Your Time
Once January 1st rolled around, I didn't have as much clarity as I've had in years past. I couldn't think of a word of the year. I had no idea what to put on my vision board. I couldn't even come up with any specific goals that I wanted to strive for. The direction of this side-hustle of mine was murky. My self-inflicted responsibilities were piling up. This left me feeling confused, unfocused and overwhelmed.
And then a mentor of mine recommended that I do a mind sweep. Set a timer for 5 minutes and write down everything that you can think of that requires your attention. A list of actions that you think you should/could do, or ones that you want/need to do.
Turns out that 5 minutes was not enough time for me to offload what was in my brain. But it was a good start and my brain was already starting to feel less cluttered. I spent the next few days adding to that list with everything and anything that I could think of. Here is a very short list of some of the actions I wrote down:
I wrote down everything I could think of. Work, business, wedding, home, relationship, training, and random thoughts. It ended up being 103 items that were all competing for my attention. These 103 things were the very reason I couldn't seem to find much clarity in any aspect of my life.
Once I had my list, I spent some time prioritizing it. I'm a big fan of color coding so I highlighted items that fell into different categories. I use a 3×5 index card system for organizing my work to-do list so I expanded that system to other areas of life.
Each action item from my mind sweep list went on a different colored index card. Individual wedding tasks went on a single purple card. Home-related tasks on red cards. Business on green. And work tasks were still on white. If I have a deadline or need to get the task done by a certain date, I write that on the card.
Every morning, I a minute picking out the cards that I want to spend my energy on that day. I set those aside in what I call my "most important tasks" pile. The rest get put away, out of sight, for another day. When I complete a task, I scribble it out and re-use the card for a new task.
Some of the things I wrote on my list weren't specific or actionable tasks. Instead they were more like goals that I wanted to work toward. I set those aside and used those to create my 2023 Game Plan.
Also Read: 5 Tips To Achieve Your Goals Faster
So here's what my re-organized list looked like: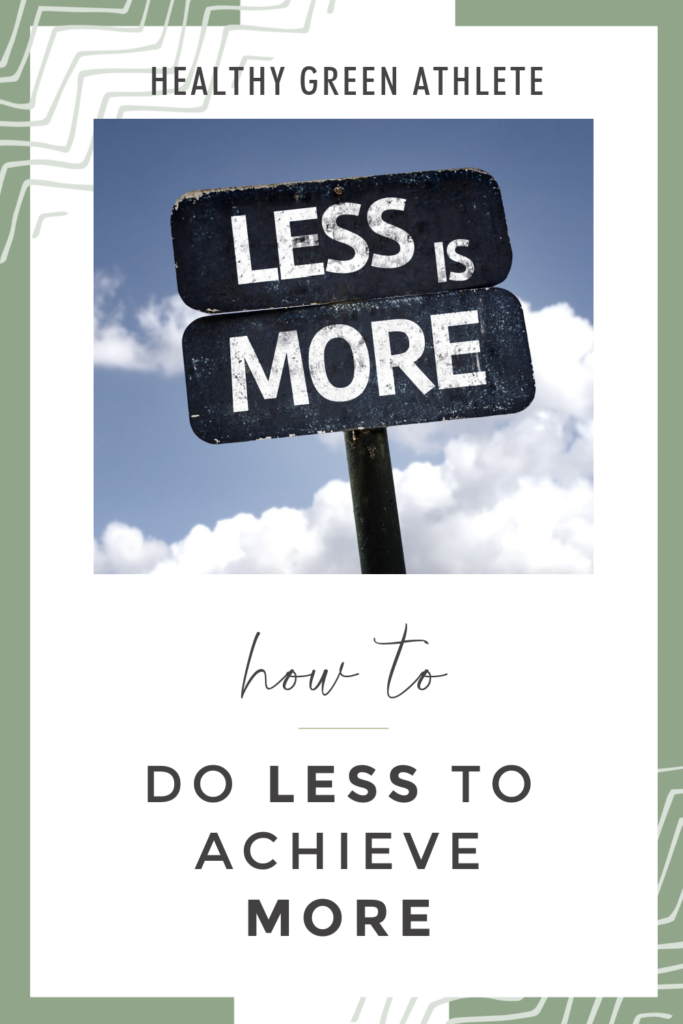 Another thing that this exercise revealed to me is that I have way too much going on. Are there things on this list that I can scrap? Are there things on this list that don't bring me joy?
Turns out some things on my list were a big fat yes.
I shut down my poshmark closet and donated everything that hadn't yet sold.
I made a list of recurring business expenses to cancel (ones I'm paying for but don't use/need).
I removed myself from several "special-project" groups at work.
And most importantly….
I quit the idea that I need to do more and decided I'm going to do less for a change.
Once I made this mindset shift, something magical happened. I found the clarity and freedom I've been craving for years. YEARS of me piling things onto my plate without letting anything go. So many days of feeling like I'm not doing enough. So much time swimming against the current and not going as far as I'd planned.
2023 is going to be a different kind of year. Not only because I'm changing my last name and *gasp* turning 40. But because this year I don't have a single word to focus on.
Instead I have a a very simple mantra: Do less to get more.
Instead of a pretty board full of photos and quotes, this phrase is the only thing on my vision board this year.
If you're feeling stressed out, overwhelmed and/or unfocused, I'd highly recommend the mind sweep exercise to help get you out of your funk.
Also Read: My secret to surviving stress
Do you have a word or mantra for this year? If so, I'd love to hear it!
And stay tuned for next week when I talk all about anti-aging for adult athletes!