This bone broth breakfast bowl is one of my favorite meals to break an intermittent fast.  The ingredients are all anti-inflammatory with gut healing properties, and also a good source of anti-oxidants for anti-aging. 
It's one of my go-to meals on the bitter cold winter days that we often get in Colorado.   The bone broth, coconut cream and warm spice combo makes it incredibly nourishing and delicious.  It doesn't take very long to whip up, especially if you're using hard-boiled eggs and have them made and peeled ahead of time.  I prefer to use fried eggs with a slightly gooey yolk (so, over-medium I guess?)
I typically purchase my grass-fed bone broth from Thrive Market but once in a while I'll make my own bone broth from scratch using beef bones from Imperfect Produce.
I also buy coconut cream in bulk since I use it every morning in my coffee so I always have some in the fridge.  This is the brand that I use and find it to be the most creamy and best value. 
I buy some of my spices in bulk from Costco and put them in these cute little glass spice jars.   For the spices that I don't use that often, I buy from Thrive Market, and always look for glass jars where possible to minimize plastic waste.
This recipe is incredibly versatile so you can swap out the ingredients to align with your personal food values.  This recipe is just one combination of ingredients that I often use in my bone broth breakfast bowls.   If I have leftover roasted vegetables in the fridge, I'll throw those in there too.  Or if I have microgreens ready to harvest, I'll add some of those along with whatever leafy green I have around.  Sometimes I omit the coconut cream and spices altogether, and use a pre-flavored bone broth like this ginger and turmeric flavored chicken bone broth.  Honestly, you could do so much with broth-based breakfast bowls!
This recipe provides 27 grams of high quality protein and is low in net carbs which makes it a great ketogenic option.  If that's what you're going for.  If you're vegan or vegetarian, you could also swap out the bone broth and use vegetable broth but make sure to add another source of plant-protein instead – such as another egg, cooked quinoa, or a hefty serving of tofu.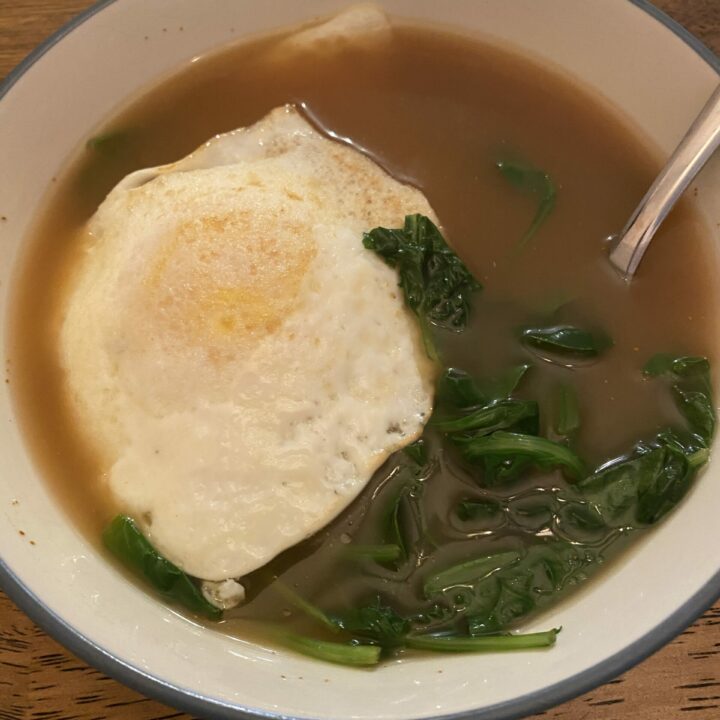 Bone Broth Breakfast Bowl
Ingredients
2 eggs, cooked any style
1 cup beef bone broth
1 TSBP coconut cream
1 cup fresh collard greens, chopped
1 /4 tsp turmeric
1/8 tsp ground ginger
1/8 tsp cinnamon
salt and pepper to taste
Instructions
In a medium sauce pan, combine bone broth, coconut cream, spices and mix until combined. Bring to a boil then reduce heat to low.
Add chopped collard greens and cook until wilted.
Add broth to a bowl and top with cooked eggs.
Season with salt and pepper and enjoy warm.
Recommended Products
As an Amazon Associate and member of other affiliate programs, I earn from qualifying purchases.
Nutrition Information:
Yield:

1
Serving Size:

1 bowl
Amount Per Serving:
Calories:

335
Total Fat:

14g
Carbohydrates:

23g
Protein:

27g