Goji berry smoothie is not only delicious, but it also provides a lot of nutritional value.  The ingredients add flavor, vitamins, minerals and phytonutrients that help the body recover, reduce inflammation, eliminate toxins, and enhance healing.  
Goji berries are gaining so much popularity and I'm so happy!   These berries are incredibly popular with the raw food community because they provide such amazing nutritional value in one tiny berry and are used in many raw food recipes.  As I mentioned in this post, goji berries are a complete source of protein, help athletes improve oxygen uptake, and help break up lactic acid in the body after an intense workout.  They are also an adaptogen which makes them great for a post-workout recovery drink.  
Also Read: The Do's and Don'ts of a Pre-Workout Meal
Rhodiola is another powerful adaptogen and pairs well with the flavor or goji berries and any other type of berry.   It's best to consume Rhodiola at the beginning of the day because it can interfere with sleep, so only add this ingredient to your goji berry smoothie if you plan to drink it before noon. 
I chose to add spinach to my recipe because it has essentially no taste when you add all of the other ingredients to this smoothie.  Plus, it's easy to blend for those that don't have an expensive Vitamix blender. 
That said, feel free to use whatever leafy green or type of berry that you you want for this recipe.  The real stars here are the goji berries and the Rhodiola.  
You can also use whatever sweetener you have in your house but I'd stay away from plain white sugar, and stick to less processed and more natural options like monk fruit, stevia, erythritol, honey, or pure maple syrup.  Or, if you find that it's sweet enough with the berries then you can omit the sweetener altogether. 
If you are looking for another green smoothie recipe, check out this delicious Peanut Butter and Jelly Green smoothie.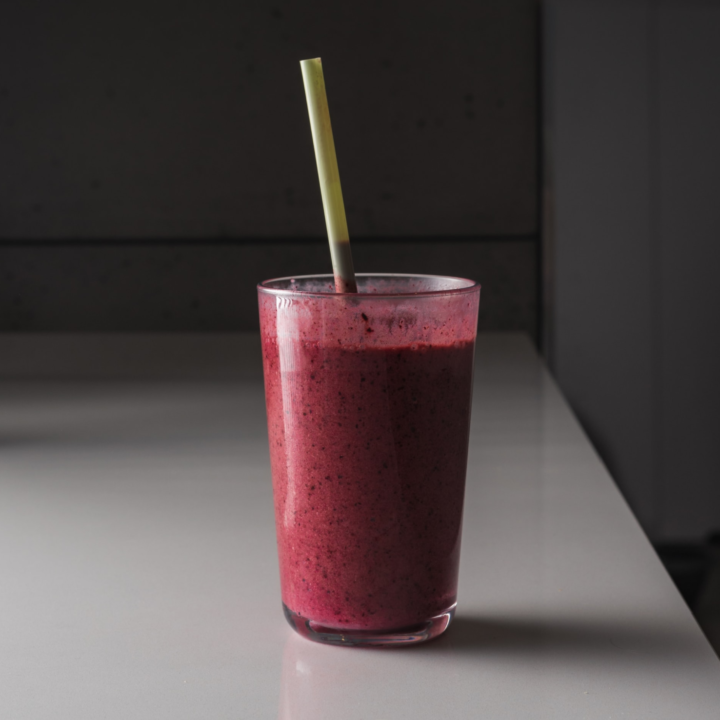 Goji Berry Green Smoothie
Ingredients
1 cup almond milk
¾ cup frozen berries
1 handful spinach
½ avocado
Instructions
Blend all ingredients and enjoy!